by Delta Technology Inc.
Oxygen Systems and Equipment Since 1992
.
Commercial/Industrial Oxygen Equipment for EMS, Fire, SCUBA and Industrial applications.
.
Portable Emergency Oxygen Systems for EMS, Fire, Medical or Dental offices or the workplace.
.
Home and Travel Oxygen Equipment for individual medical needs at home or away .
Outside of the US? Please contact us at Info@DeltaOxygenSystems.com to request an Invoice for your item.
For filling 1 to 6 portable oxygen cylinders from a bank of 3 to 10 supply tanks.

We will work to assure that you have the system that best meets your company's needs.

Please call us for a free quotation.

For Oxygen Cascade Systems, Click here

For Cylinder Racks, Click here

High pressure hose assemblies for oxygen, breathable air and all commercial gasses.

Custom adapters for any application

Specialized terminations available.

Home Oxygen Fill Adapters and Cylinders

Meets all requirements for emergency oxygen systems.

May help to lower insurance premiums for your practice.

Systems include Emergency Oxygen Training Program with DVD.

Res-Q-Air Oxygen Systems for Home, Pool, Boat, Shop and Commercial Use.

All Systems inclde Emergency Oxygen/CPR Training DVD and CPR Mask.

Used by Rescue Squads, EMS, Fire Stations, Doctors Offices.

PTFE 3000 PSI braided stainless steel hose assemblies.

Armor Guard 4250 PSI braided stainless steel hose assemblies.

6000 Teflon lined braided stainless steel hose assemblies

Store Catalog

View everything we sell in one convenient location.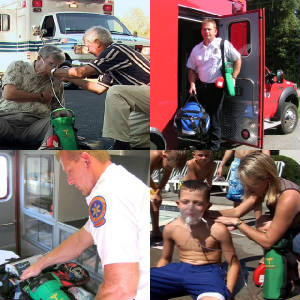 Industrial Oxygen
Oxygen and Breathable Air Cascade Systems
Transfill Hose Assemblies and Adapters
Containment Stations
Compressors and Generators
Air Boosters
.
Emergency Oxygen Equipment
Portable Emergency Oxygen Systems
Dental and Medical Oxygen Systems
Specialized Regulators and Accessories
Emergency Oxygen Training DVD Program
x
Home and Travel Oxygen
Oxygen concentrators, compressors, accessories.
Complete Homefill Systems.
Adapters for filling standard cylinders.
.